The significance of the project is measured not by its scale, but by the "added value" generated by this project. This can be a logistical cluster, which, in addition to the main function, enables its employees to learn and communicate, and the home territory creating a community of citizens from usually conflicting groups - "grandmothers", "bikers", "dog lovers" and "teenagers". Young creative architects will certainly see such solutions, that developers, members of the PROESTATE 2018 Forum, will take on.
International jury and speakers at the discussion
Speakers and jury members:
Raymond Terris, Head of Architecture AECOM, Moscow
Markus Appenzeller, Partner MLA+ Architecture, the Netherlands
Can Hızıroğlu, Partner ERA, Turkey
Oleg Malkov, Architect Tikkanen architects, Finland
João Cruz Neves Design and architecture Director ERA Architecture Consulting Co. Ltd, Portugal
Jury members:
Vladimir Linov Saint-Petersburg State University of Architecture and Civil engineering, Russia
Anatoliy Stolyarchuk Ilya Repin St. Petersburg State Academic Institute of Fine Arts, Sculpture and Architecture, Russia
Yana Golubeva MLA+, Russia
Contest awards 2018:
Traineeship at AECOM – global design and engineering company (Moscow – St. Petersburg)
Traineeship at the international design and engineering company MLA+ (Russia – the Netherlands)
Traineeship at the Turkish architecture company ERA (Moscow – Istanbul)
Traineeship at the Finnish company Tikkanen Architects (Russia – Finland)
Contest is organized by: the Russian Guild of Property Managers and Developers and PROESTATE Events, supported by the Russian Union of Architects, Association of Architecture Workshops, St. Petersburg Committee of urban development and architecture (KGA).

Main objectives of the Contest:
Present the creative potential of young architects and their vision of the modern urban environment to the Russian and international real estate professionals
Draw attention of the professional community and authorities to issue of balanced urban transformation, especially in the historical centers
Support talented young architects and deliver their ideas to the target audience
Nominations 2018
Drivers of new lifestyles
Co-style projects (co-working, co-living, shared spaces). Solutions for connections, but not for disconnections.
Heritage as development asset
New spirit projects in «old walls». Offices, multi-use complexes, social and event zones instead of industrial areas and warehouses.
Buildings and infrastructure, generating new working places and activities. Data-centers, transport hubs, shopping malls with added reality and services.
Projects to save the full-figured population of cities - sports and play facilities, creative zones, line parks for outdoor activities, etc.
Stages
June 18 – September 4, 2018
Projects of contestants are received, placed on websites, judged by the Jury. The Jury chooses semi-finalists, their projects are prepared for exposition at PROESTATE.
September 19 – 21, 2018 PROESTATE (Moscow)
Exhibition and presentation of short-listed projects at PROESTATE. Voting of PROESTATE participants and professional Jury.
Discussion: Architecture of motivation.
Contest participants: students and graduates of faculty of architects (under 35 years old).
Please send contest materials till September 4, 2018.
See how it was in 2017
Since 2010 dozens of young architects in the framework of the "Young Architects" contest have got an opportunity to present own creative projects to the Russian and International professional communities.
94 projects from 24 Russian cities (Moscow, St. Petersburg, Kazan, Ekaterinburg, Yaroslavl, Ufa, Rostov-On-Don, Vladikavkaz, Novosibirsk, Volgograd, Nizhniy Novgorod, Ulyanovsk, Makhachkala and others) and some CIS countries participated in "Young architects in Modern Development" Contest of projects in 2017.
Projects of 20 semi-finalists were exhibited at PROESTATE forum in September in Moscow.
The Contest winner was awarded at the annual CHRISTMAS SUMMIT in December 2017 in St. Petersburg in partnership with the Consulate of Kingdom of the Netherlands in St. Petersburg.
The award went to the «Old Good New» - project, developed by the group of architects, Veretennikov Daniil and Veretennikova Kseniya: planning concept for the 5-storey buildings area, constructed in Soviet times during Nikita Khrushchev's period. The main idea of the project is the alternative method and solutions to solve the social, ecologic and infrastructure problems in these areas and create high quality living environment for the residents.
The representative of the winners' group has got the main prize: Traineeship in the Architecture Bureau "Cie Architect" (Amsterdam).
SNAPSHOTS FROM THE YOUNG ARCHITEСTS IN MODERN DEVELOPMENT - 2017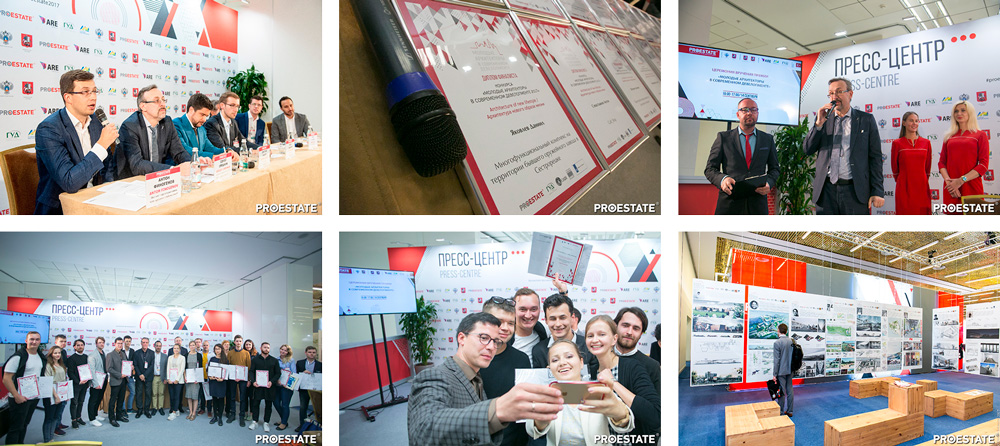 Contacts
Partnership and participation:
Svetlana Nikiforova
This email address is being protected from spambots. You need JavaScript enabled to view it.
International issues
Polina Ragulina
This email address is being protected from spambots. You need JavaScript enabled to view it.